Question of the week is: As a kid, what did you look forward to most about summer vacation/break/holiday?
Summer vacation for me was being packed up with the grandparents for a week (at least) to their cabin in the UP. For those non-Michigan folk that's the Upper Peninsula. To their cabin in Lake Linden on Rice Lake. Pure heaven to be up there and right on the lake. We'd head into town to the Houghton County Historical Museum there or to the old Mine. Or head to Calumet/Copper Harbor/Laurium area and hit the museum's there. Yeah I know doesn't sound like much fun for most kids. But my great-grandma was from the area so it was a way for me to learn a little about her and how she was raised. Or just hang out in or out of the cabin. Fishing, swimming, playing cards or board games, rowing the boat on the lake, or heading to Lake Superior to brave the cold water there. It was either just me and my younger brother with the grandparents. But sometimes my youngest aunt would come and she would help out when our cousins came up too (other aunt's kids). I remember one time riding a bike with my aunt Kristi (youngest aunt) down the dirt road and a fawn started to chase us. It thought because I had a white shirt on I was mom. It scared the crap out of me.....well I mean I was only 6 or 7 I really didn't know any better at the time. But of course it is all written down in the cabin journals. That is my favorite thing to do now when I get the chance to head up there - read the journals. But since it is a 13, now 14 hour drive from where we live now and with gas prices being they way they are who knows when that will happen again. The girls enjoyed their week up there about 3 years ago and I loved being able to take them there. Now it's not just the one cabin that we have but my Uncle Steve has the lot next door and on the other side of him is my Aunt Pam's cabin. More room and more fun to be almost all of us up there at once. I miss it. :)
There is a little peninsula under the red dot marking Lake Linden - shown closer in the next pic.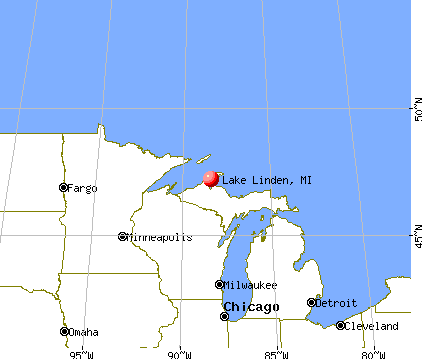 The green arrow is pointing to Rice Lake.
This is an aerial view of lake Linden (city) and Torch Lake.
On the knitting front - I frogged Calorimetry and restarted it last night. Am about a quarter of the way done now and hope - with no distractions - to finish it tomorrow sometime.