Well I started Calorimetry and after a few fits and starts of froging had it almost half way done. Then realized I'd messed up and couldn't figure out where to tink back to. So it had been frogged once again. But here are some picsa of Becca's scarf and what calorimetry looked like prior to frogging. As well as my handmade stitch markers on calorimetry. Enjoy!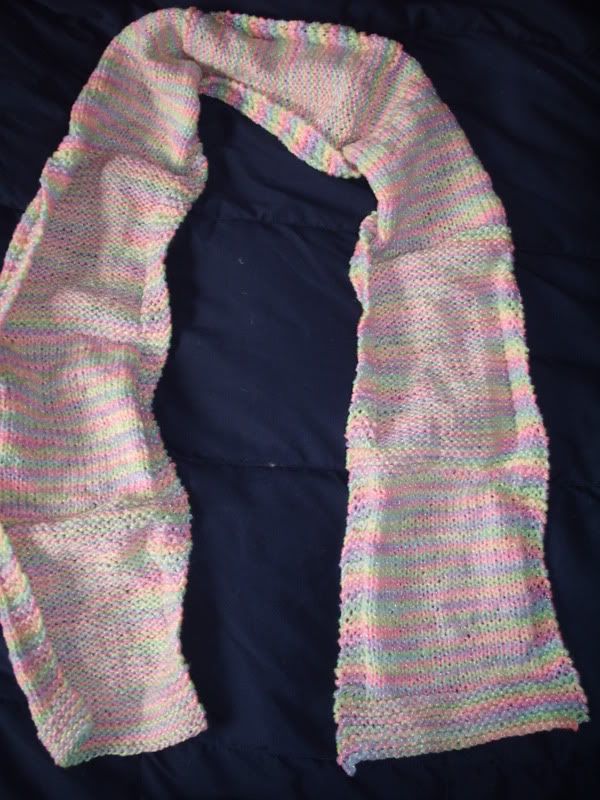 Thought I might post how I made this scarf here in case any one likes the way it looks.
Name: Becca's Scarf
Needle: US 6
Yarn: Red Heart Ltd. Baby Sport Pompadour 6 oz.; 90% Acrylic, 10% Olefin; Sport weight 3 ply
Color: 1952 Rock-A-Bye
1. Cast on 30 stitches.
2. Knit 12 rows in garter stitch.
3. Next row knit 4, purl 22, knit 4.
4. Knit next row.
Repeat steps 3 & 4 for 38 more rows.
5. Knit 5 rows in garter. This will alternate which side the stockinette shows on. if you want them all on the same side knit only 4 rows.
6.Repeat 3 & 4 for 40 rows. Then step 5 for 5 (or 4) rows.
7. Repeat step 6 until desired length. When done with last stockinetter panel finish scarf by knitting 12 rows in garter. Bind off scarf. Weave in ends and block to get scarf to lie flat adn stop curling.